The Butcher's Daughter Guide to Round Top


Every fall and spring, the charming town of Round Top, Texas welcomes 100,000 visitors to its renowned three-week antique fair. Established in 1968, the fair features vendors from around the world and takes place along a 20-mile stretch of the historic Texas State Highway 237. Here, you can find everything from Moroccan rugs to rattan chairs to vintage denim jackets.
A hub of art and culture, Round Top has been a longtime inspiration for our Founder and Creative Director Heather Tierney, who travels to the antique festival every year to source unique pieces for our locations on both coasts. This year she was joined by our creative team, including Project Manager and Designer Kiki Powell, Retail Creative Director Mika Cali, and Digital Media Manager Stephanie Mace.
While the tiny town is home to only 90 people, there's plenty to see and explore. Read on for some of our favorite spots in Round Top, plus a recipe to refuel after a busy few days of shopping.
STAY
A unique lodging and lifestyle brand, The Vintage Round Top is a haven for style and sustainability just steps away from many of the vendors. We stayed in the gorgeous Boho Cottage, which is complete with two bedrooms, three full baths, and a great room with vaulted ceilings. We loved how owners Paige and Smoot Hull designed the space as a blend of clean, modern lines with vintage touches. Every detail was considered, from the brass countertops to the cozy fireplace and Cara Marie Piazza linens on the comfy beds.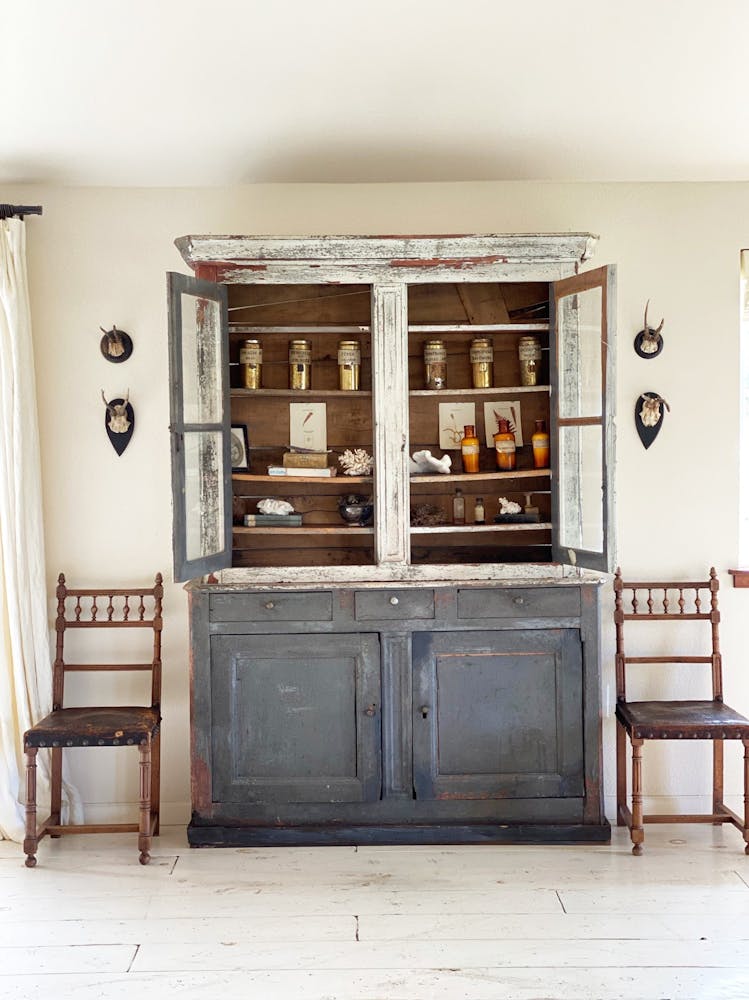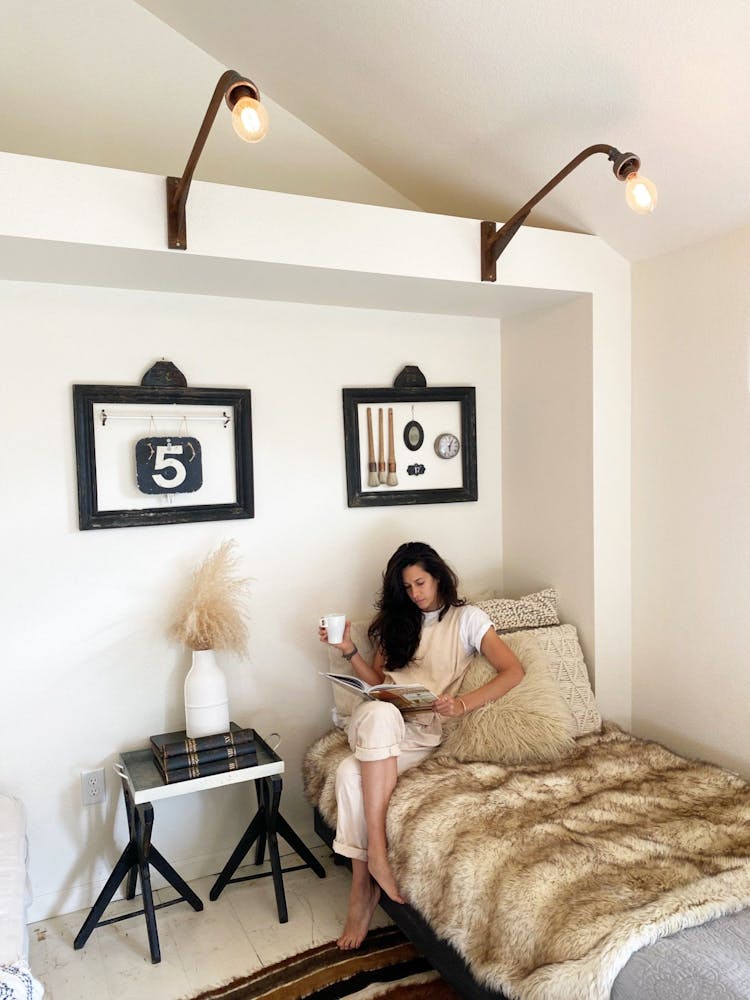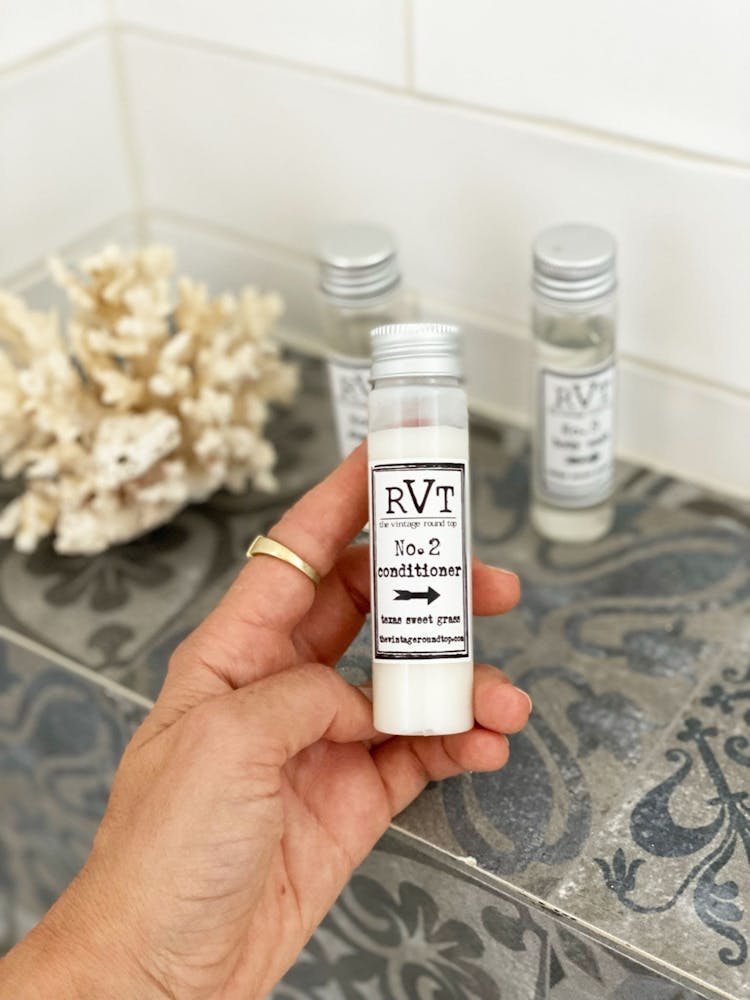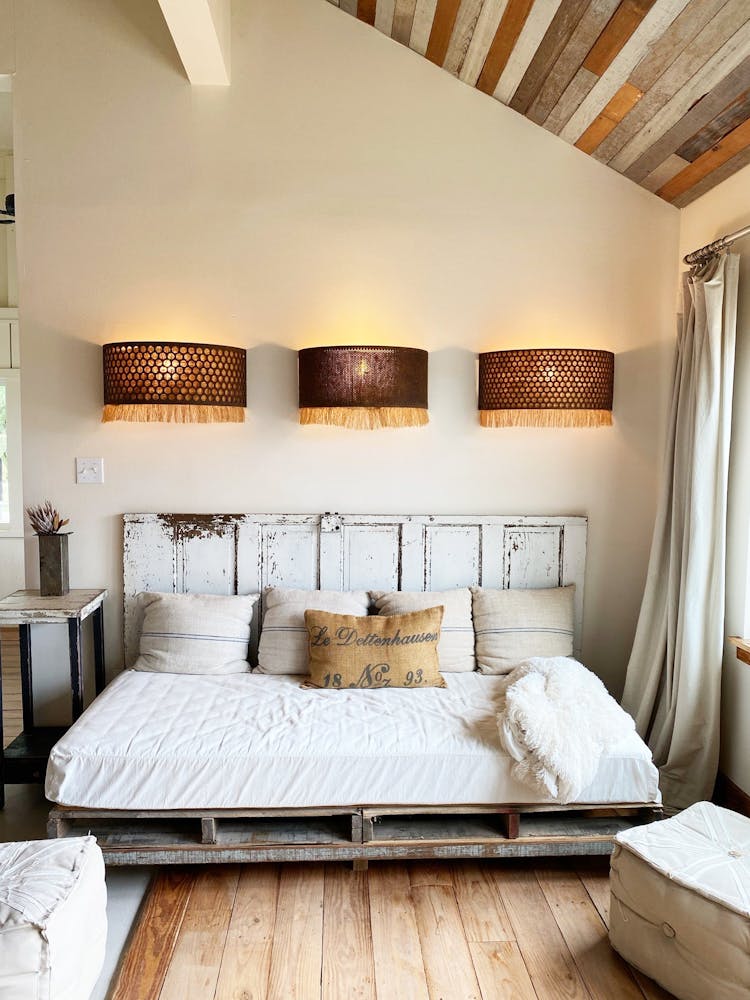 Just a few miles down the winding country roads, The White House on the Hill is another destination for a stay near Round Top. We spent two nights at The Barn, which is set on the highest point of Washington County, making it the perfect spot to watch the sunset and see stars. Mixing antique elements with modern pieces, the space features honey hued wood, a cozy firepit, several antique chandeliers and Pandora de Balthazar luxury down pillows. We especially enjoyed the homemade lemon poppyseed muffins that owners Rob and Linda delivered in the morning.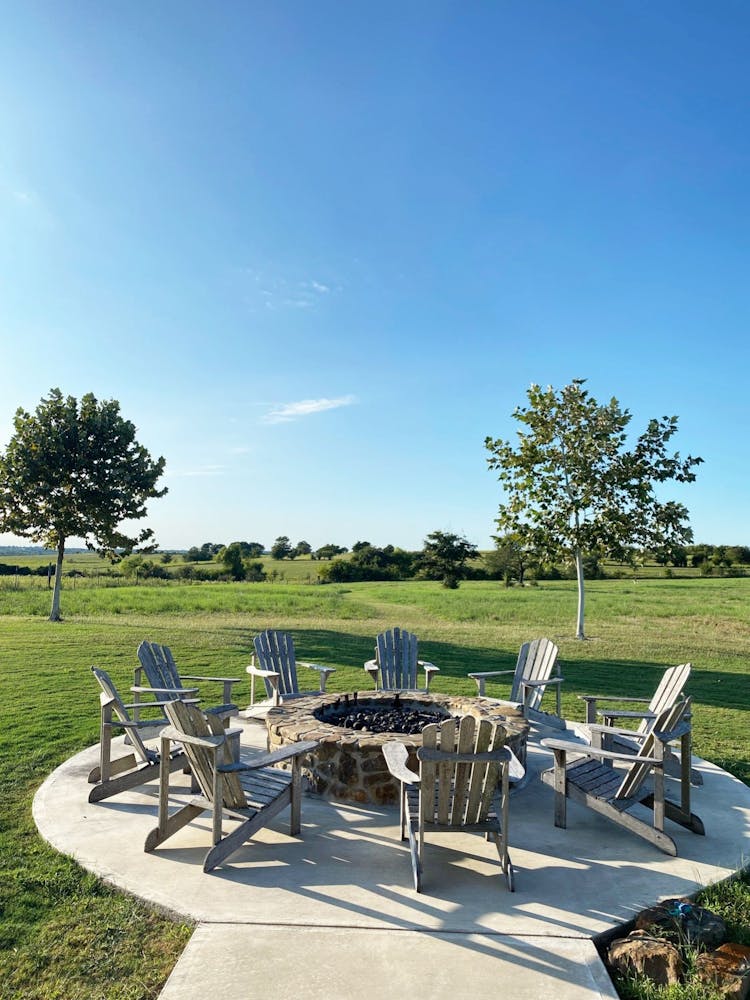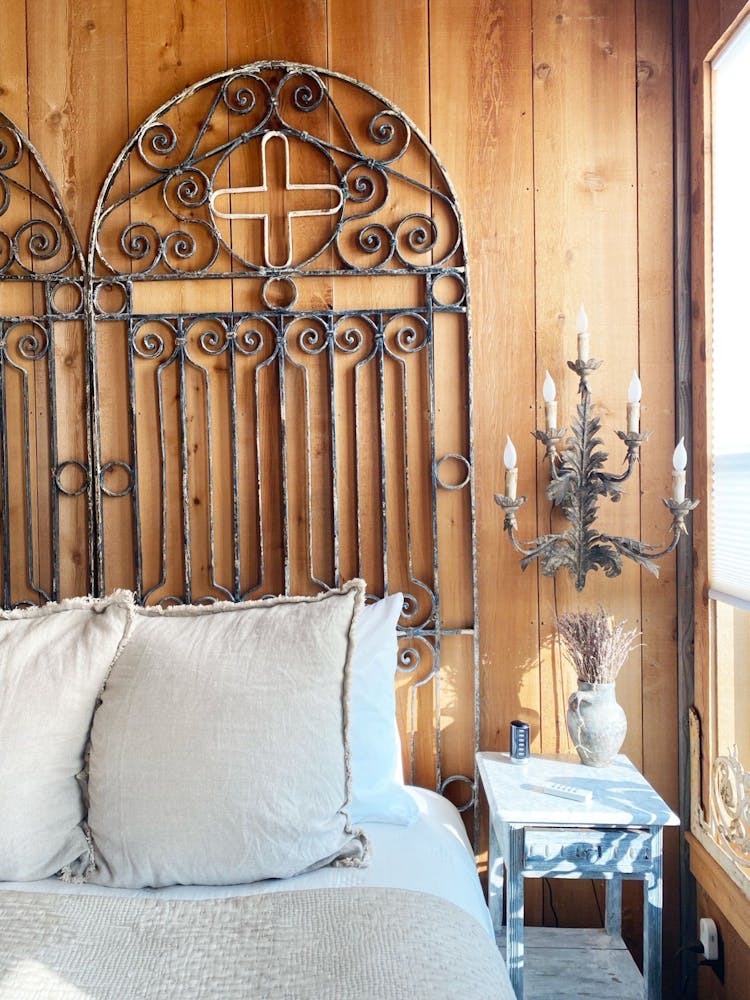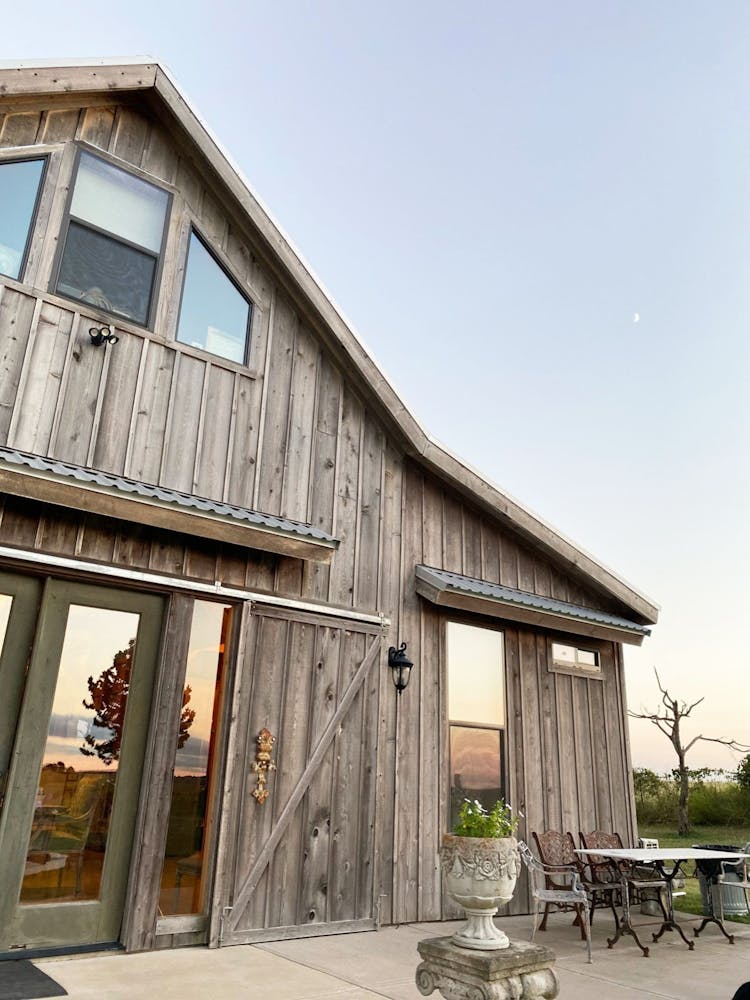 SHOP
With countless vendors, it can feel overwhelming to choose a starting point for shopping at Round Top. We began at Northgate Marketplace, where we found a stunning bar and sconces from our friends at More Than Antiques. This field also presents a range of other vendors selling Turkish carpets, cafe tables, leather arm chairs and more.
Our next stop was Excess I and II, two warehouses packed with vintage treasures. Among our top picks were Knock on Wood Antiques, Jersey Junker and Pascale Jones Art & Antiques, where we discovered one of our favorite pieces from the trip: a rattan motorcycle.
For a break from the sun, we headed to the indoor-outdoor space at Market Hill, which offers 119,000 square-feet of curated vendors hailing from all over the world. Plus there's air-conditioning, wifi, restrooms and a modern restaurant (see below!) The biggest vendor is Paul Michael Company, where you can get everything from cutting boards to agate tables and wall decor.
Other highlights include Topped Hats for hand-painted hats, Townsend Provisions for cowboy boots and t-shirts, and Bader Ranch for European furniture - if you're lucky, there are occasionally croissants and coffee served in the back of the store!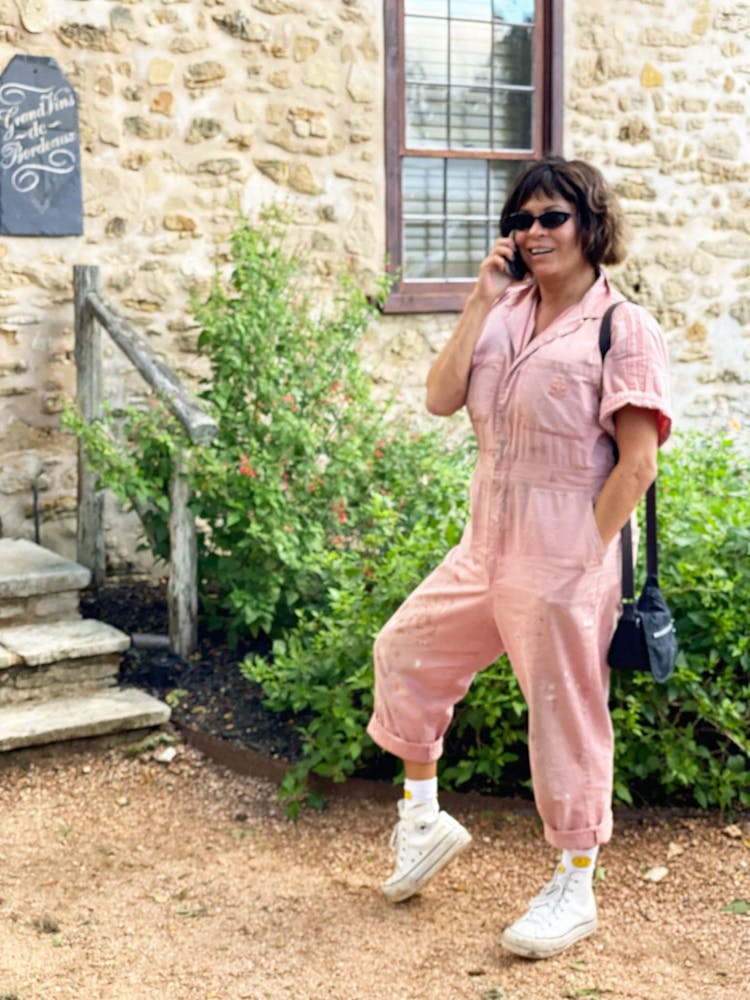 .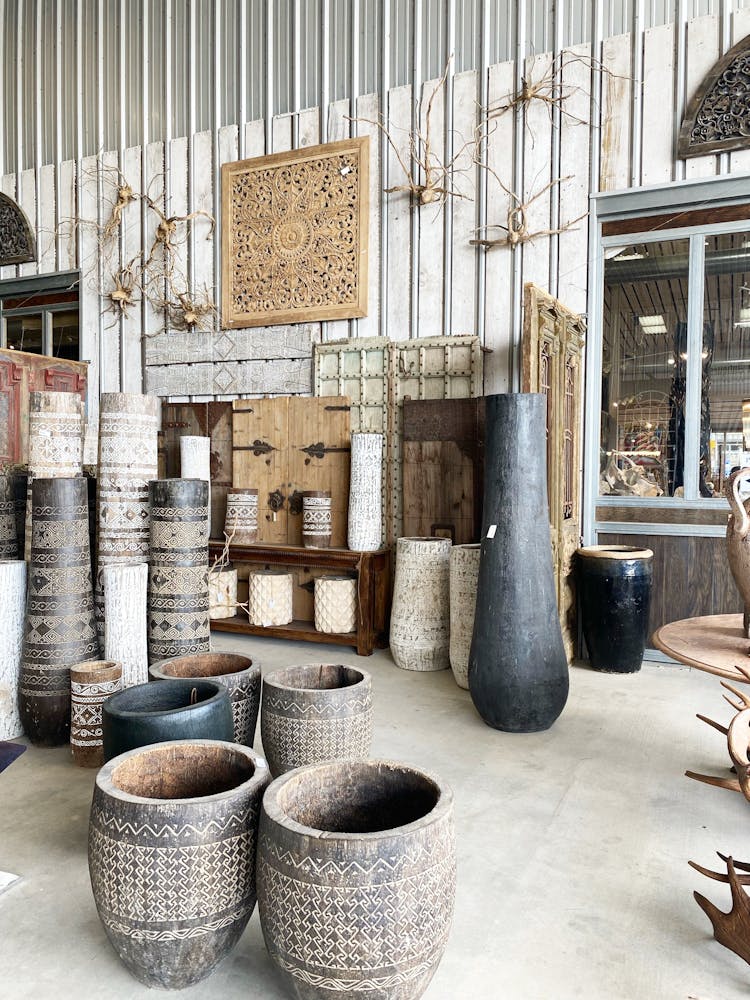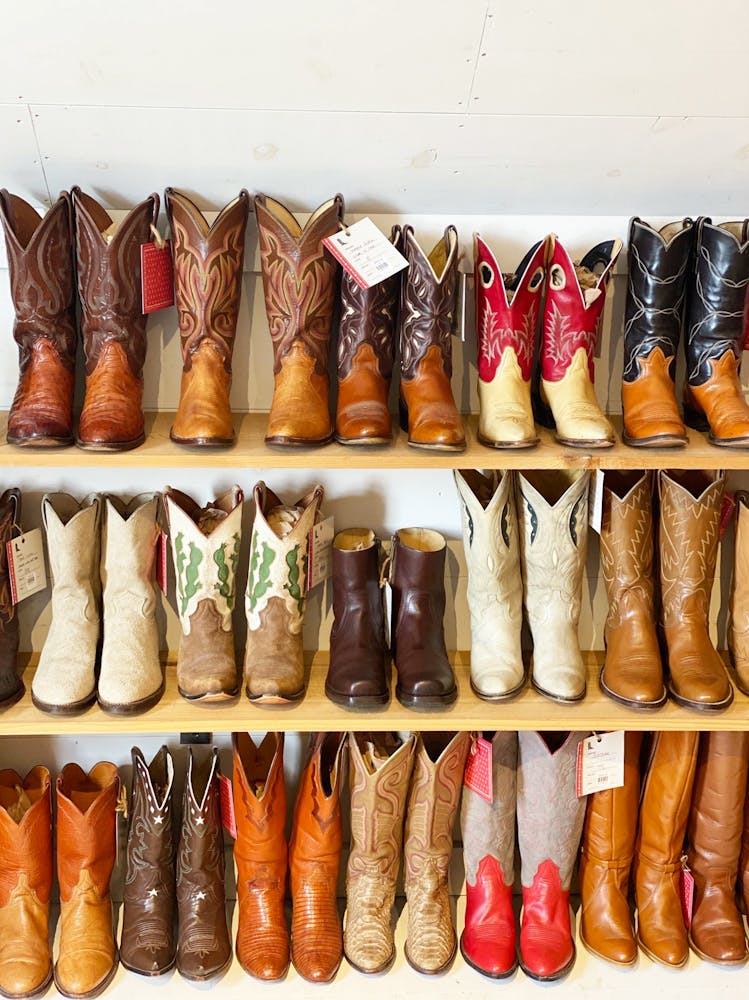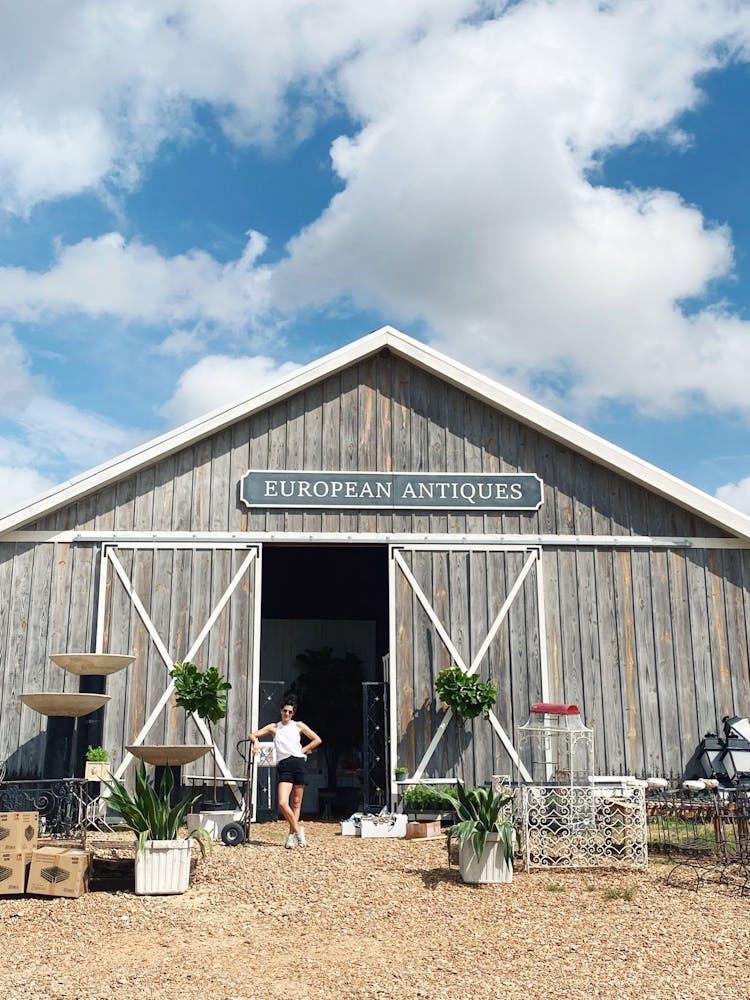 EAT + DRINK
When you're ready for a break from shopping, visit Rummel Square in the center of town to recharge. Grab a latte and breakfast tacos at the Round Top Coffee Shop or enjoy a slice of handmade pie from Royer's.
Other options to keep you fueled include Mandito's, a tex-mex restaurant with delicious frozen margaritas and enchiladas and The Garden Company Cafe, which serves a seasonal menu inspired by local produce. We loved their creative cocktails, fresh salads, and sandwiches - their crispy brussels sprouts are a must!
For wine, artisanal cheeses and wood-fired pizzas, be sure to try Prost on Block 29. Located in one of Round Top's most historic buildings, Prost is only open Thursday through Saturday, so check their hours before you go. They also offer live music in the evenings on their sun-drenched back patio.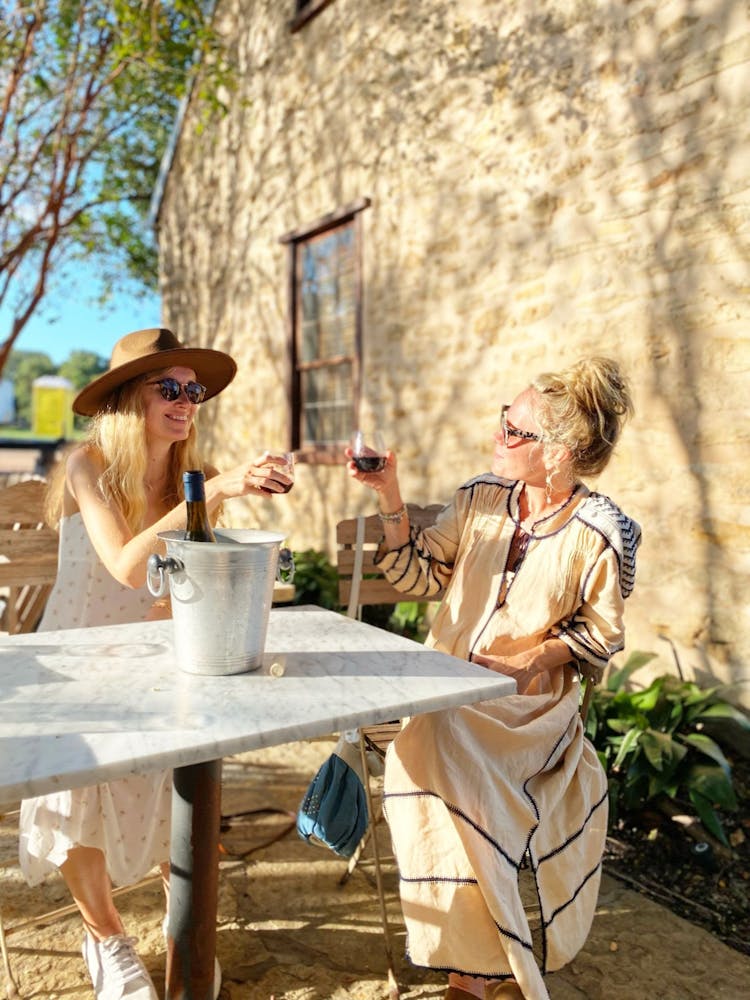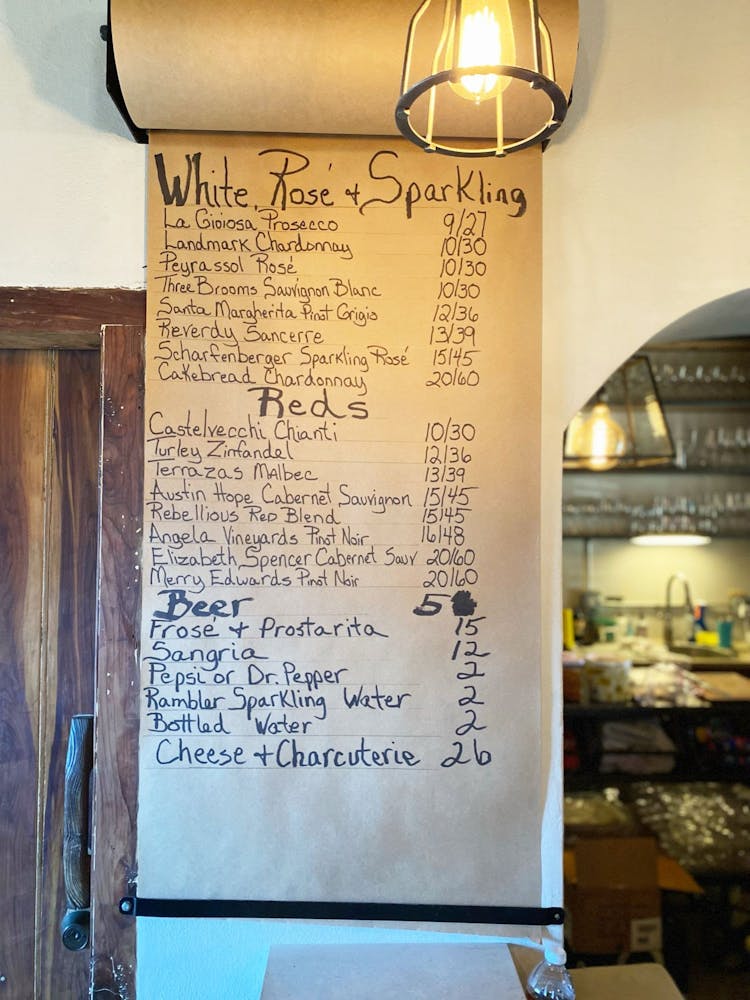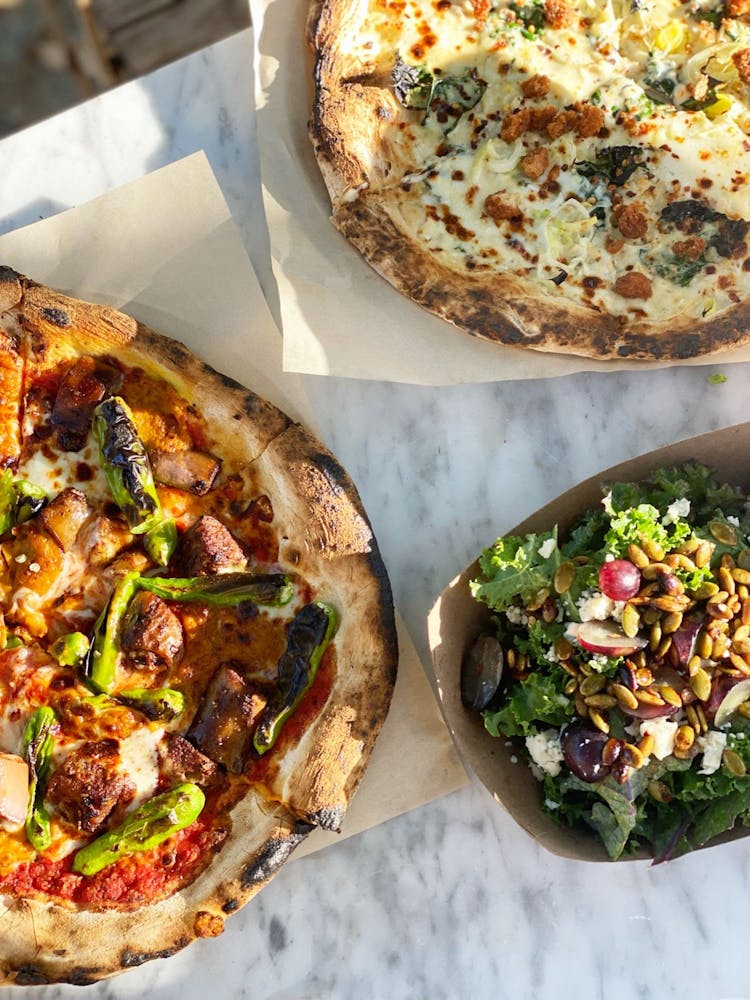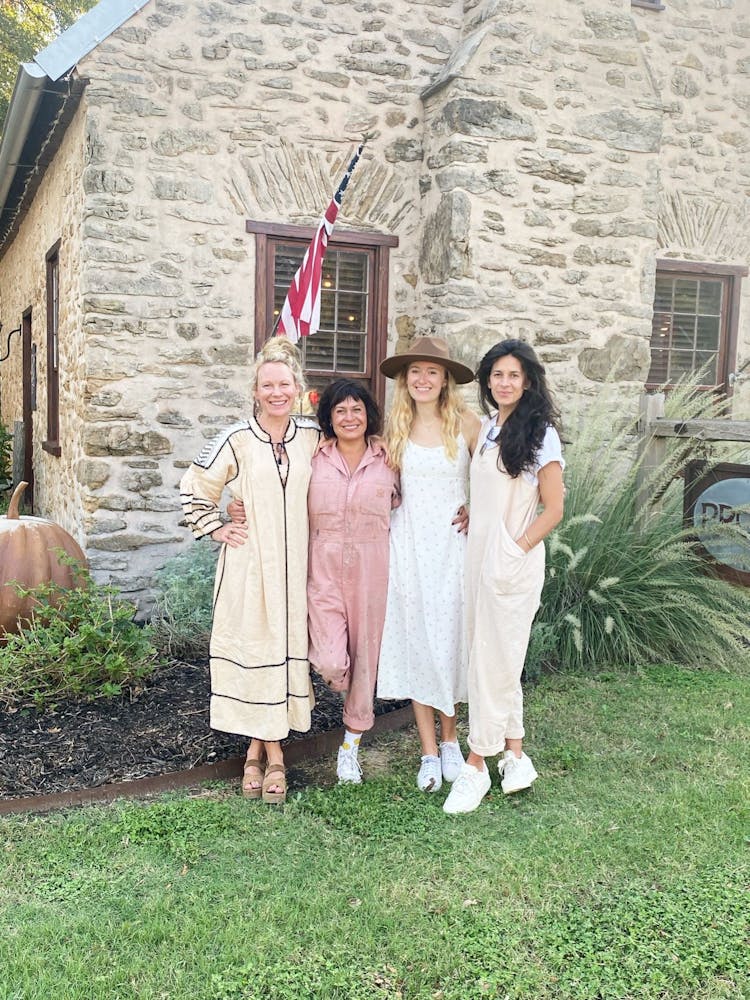 Just a short drive away from Rummel Square at Market Hill, you'll find Duo by Gino & Nate, a farm-to-table restaurant that serves lunch, dinner and brunch on the weekends. Each meal is served buffet style, with vegetarian options, fresh bread and a curated wine list.
To unwind at the end of the night, head to Ellis Motel in Henkel Square. The two-story 1800s building is open late Thursday through Saturday serving craft cocktails and snacks. With a roomy front porch, cozy lounge and a 70s playlist, it's the perfect place to linger and soak in the local culture.
After a few days of shopping and dining out, you might be in the mood to cook at home, stay in and restore. We've got you covered - keep reading for a revitalizing recipe from our LA Executive Chef Richard Rea. And don't forget to check out our Instagram for more behind the scenes!
REJUVENATE GRAIN BOWL RECIPE
1 ½ cups uncooked white rice, or any grain you choose
½ cup uncooked tricolor quinoa
1 large zucchini (about 2 pounds total)
1 red onion
1 cup chopped carrots
1 large cucumber
½ cup of fresh kalamata, castelvetrano, or whatever olive you like
⅓ cup extra-virgin olive oil
2 teaspoons Adkins steak seasoning
1 teaspoon flaky sea salt
3 cups spinach
½ cup toasted almonds
Any dry, semisoft cheese, such as ricotta salata, cotija or feta, for serving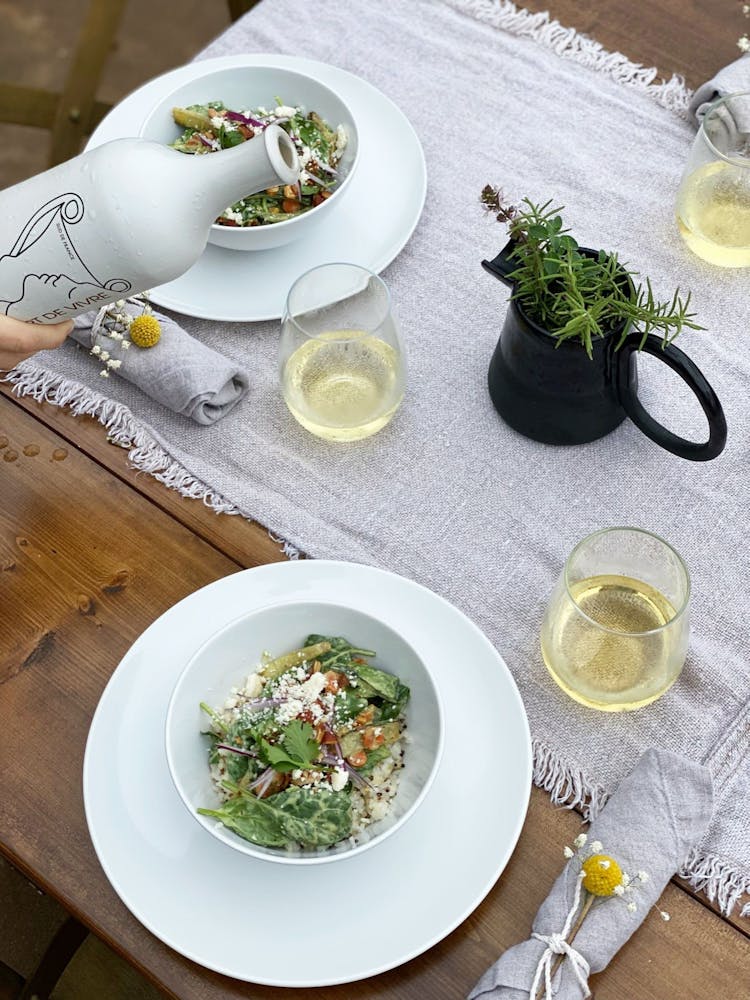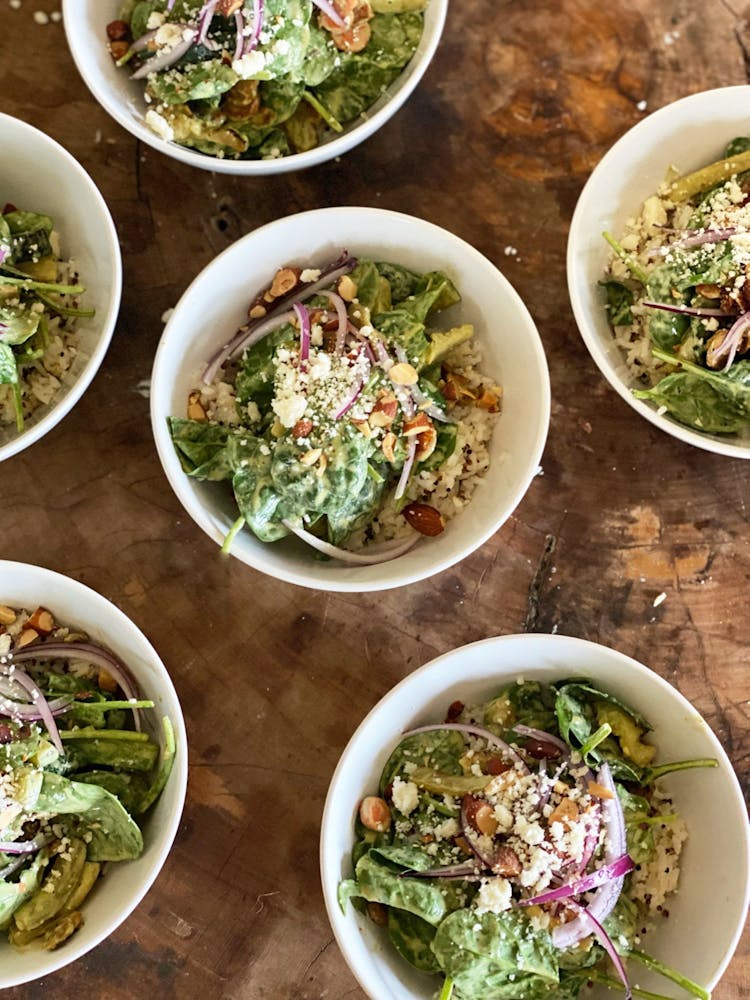 GREEN GODDESS DRESSING
2 garlic cloves, smashed
1 ½ cups plain whole-milk yogurt
1/4 peanut butter 1/4 olive oil OR 1 cup of tahini
⅓ cup fresh lemon juice
1 ½ cups packed fresh parsley leaves
1 ½ teaspoons kosher salt
1 teaspoon freshly ground pepper
INSTRUCTIONS
Cook the rice and quinoa together in 4 cups water, in a rice cooker, or on the stovetop until just tender.
Cut zucchini into 1-inch pieces.
Cut cucumber into 1/4 pieces.
Shave the red onions into thin strips and reserve in water, drain water before serving.
Meanwhile, heat a grill or grill pan to medium-high. Toss the zucchini, with the oil, Adkins steak seasoning and salt. Grill, turning once, until tender and nicely charred, 4 to 6 minutes per side. Or roast in a 400-degree oven till charred, (10-12 min) Set aside to cool slightly.
Make the Green Goddess Dressing: Purée all the ingredients and 2 tablespoons water in a blender until smooth and uniformly green. Serve or refrigerate in an airtight container for up to 5 days. (This recipe uses only about ¾ cup of the dressing, so feel free to make a half recipe if you don't think you'll eat it all!)
Toss the vegetables, spinach, and about ½ cup of the dressing together in a large bowl. Spoon the warm rice and quinoa into bowls. Scoop the dressed vegetables over the grains.
Add the fresh onions and cucumber.
Topped with almonds and cheese, with extra dressing on the side.