Immune Booster Smoothie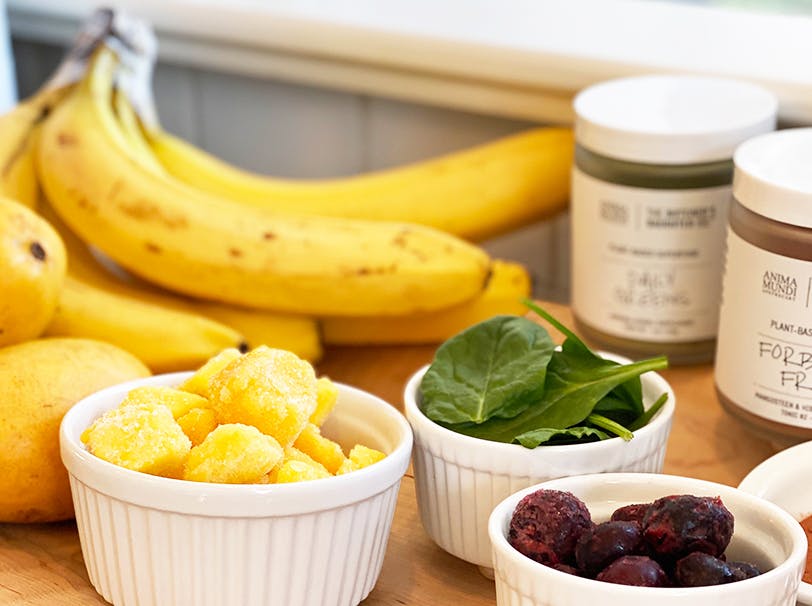 Adding in a morning smoothie routine is a proactive way to start the day feeling clear headed and energized. After a night of sleep (period of fasting), it is really important to make sure that the first thing we put into our bodies is healthy and nutritious so we can take on the day no matter how it unfolds.
This recipe was designed to satisfy the whole family - to maximize the fruity notes while hiding the greens from the pickiest of kids while also adding in enough nutrients to keep Mom and Dad nourished.
Total Time: 5 mins
Materials: High speed blender (Vitamix, Ninja or NutriBullet)
Yields: serves 2, double the recipe for family of 4
Ingredients:
-1-2 handfuls of fresh spinach or 1 teaspoon of The Butcher's Daughter, 'Daily Greens' Adaptogenic powder
-1 fresh or frozen banana
-1 cup frozen cherries
-1 teaspoon of The Butchers Daughter, 'Forbidden Fruit' (high in vitamin C) adaptogenic powder
-1 cup of frozen or fresh mango
-Add 1/2 cup almond/hemp/oat milk if you are using more frozen fruits to help blend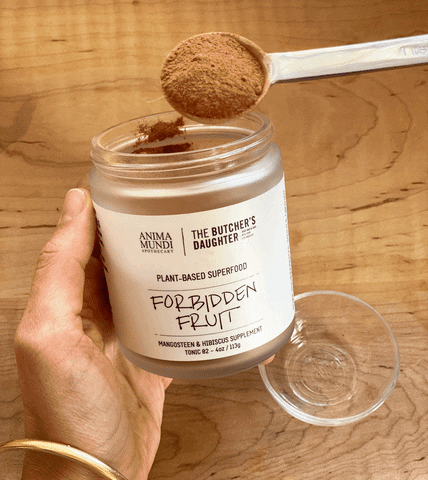 How to make:
Add all non frozen ingredients first, then the powder(s) with the (optional) non dairy milk last. Blend till smooth in texture.
Benefits:
Spinach is great because, unlike kale, it doesn't alter the taste or flavor allowing the fruit to be the main tasting notes.
Adding in almond milk (along with the spinach) makes this a nicely balanced smoothie with protein to really fill you up.