Greenshaker Mocktails and Q&A with Wellness Chef Aimee Greenacre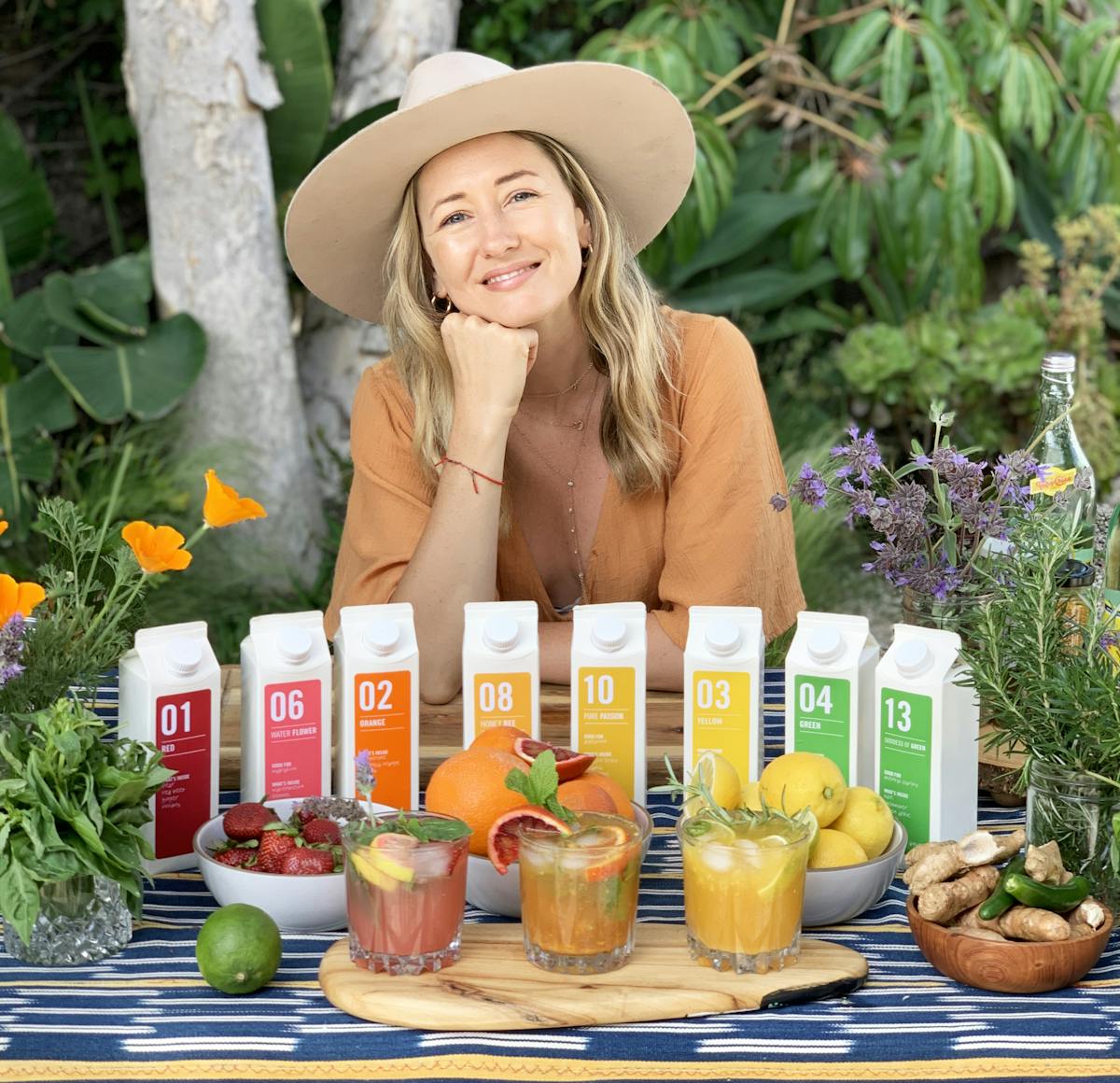 When considering ways to stay creative in the kitchen, we immediately thought of the incredible Aimee Greenacre, an international wellness chef and conscious culinary expert based in Los Angeles. We chatted with Aimee, who is known for her "Eat the Rainbow" mantra, about her passion for travel, how she creates nourishing meals and where she seeks inspiration. Read on to learn more about Aimee and try her delicious mocktail recipes!
We are big fans of harnessing challenges to use for growth opportunities. What has been your biggest challenge that ultimately led to a big growth opportunity?
Moving countries 3 times in the last 10 years, and landing in LA was my biggest growth opportunity to date. I moved here newly single after the end of a 5 year relationship, I was just graduating from Institute of Integrative Nutrition, and I knew I wanted to work in health and wellness. So I came here on a whim, not knowing anyone, and I had to build up my career and my life again. It challenges you in so many ways, it takes you out of your comfort zone. You are forced to learn new routines, make new friends and you really only have yourself to rely on. It builds so much strength and I also learnt how to be compassionate with myself in the process.
You have mentioned that your culinary curiosity has led to quite a bit of world traveling. What has been your most inspiring trip? Where would you go back again?
Istanbul is one of my favorite cities, I have visited over 10 times. The history there is so evident, beautiful and vast. From the Ottoman era, the Mosques, the Grand Bazaar, the Bosphorus, my favourite food moments are in this city. Turkish culture understands the concept of hospitality and truly creating a warming cosy environment and gathering over a cosy meal. A typical lunch or dinner consists of many courses, serving lots of fresh dishes, they use fresh ingredients and loads of herbs, spices, flavours, sauces, dips and breads. Every meal is a social activity that can last a few hours, and it's all so delicious. If you have never tried a Turkish Breakfast, then this is one reason to visit and I would go back for these any day!
During this unprecedented time of COVID-19, what is one of your go to immune boosting recipes or tips that you would share with us?
An immune boosting recipe I have been making is my homemade veggie broth with all my leftover veggie scraps and extra ginger and garlic. I have been sipping this daily with a squeeze of lemon for an extra boost of vitamins and minerals and helps to stay hydrated. My number one tip to keep your immune system booster is making time for pleasure and play. Losing our sense of control can have a negative effect on our stress, anxiety and levels - this can be so detrimental to our health. Joy is a chemical we create naturally. So making time to be playful, to dance, listen to fun music, have some fun catching up with friends online, or dressing up at home - because you can. Anything that boosts your happy hormones, is the best way to boost your immune system!
We love that you believe there is a direct link between eating well and having a positive outlook on life. Some first time customers of ours are those trying to make a transition into a healthier lifestyle. What is one coping method or practice that you would recommend to those trying to make that transition or ones struggling to maintain?
Eating well can be daunting if you don't know where to start, but one way I encourage people to start is to experiment with eating the rainbow. When you buy groceries, or cook your food, ask how many colours have you eaten that day? And start by adding different varieties of plants and more colours to your plate every meal. This makes it fun, new and interesting and is giving your body a full spectrum of vitamins and nutrients from the variety of food you are giving your cells. Also, cooking is all about experimenting - research recipes, google is amazing, and just PLAY. Cooking should be fun.
Aside from your travels, do you have a daily routine or ritual that you do to stay inspired while brainstorming new recipes?
Yes, my weekly ritual is going to the Farmers Market. I am so grateful to live in California, with the abundance of markets we have and the fresh incredible produce available. I am constantly inspired by whatever is in season. This is how I love to cook, by finding the most fresh, wild and mis-shaped produce that you will never find at the grocery store. This is my greatest inspiration, I love experimenting with new ingredients, you really taste the difference when the produce is fresh and in season. It's also such an enjoyable way to do groceries - outdoors in the sunshine, talking directly to the farmers where your food has come from.
MOCKTAIL RECIPES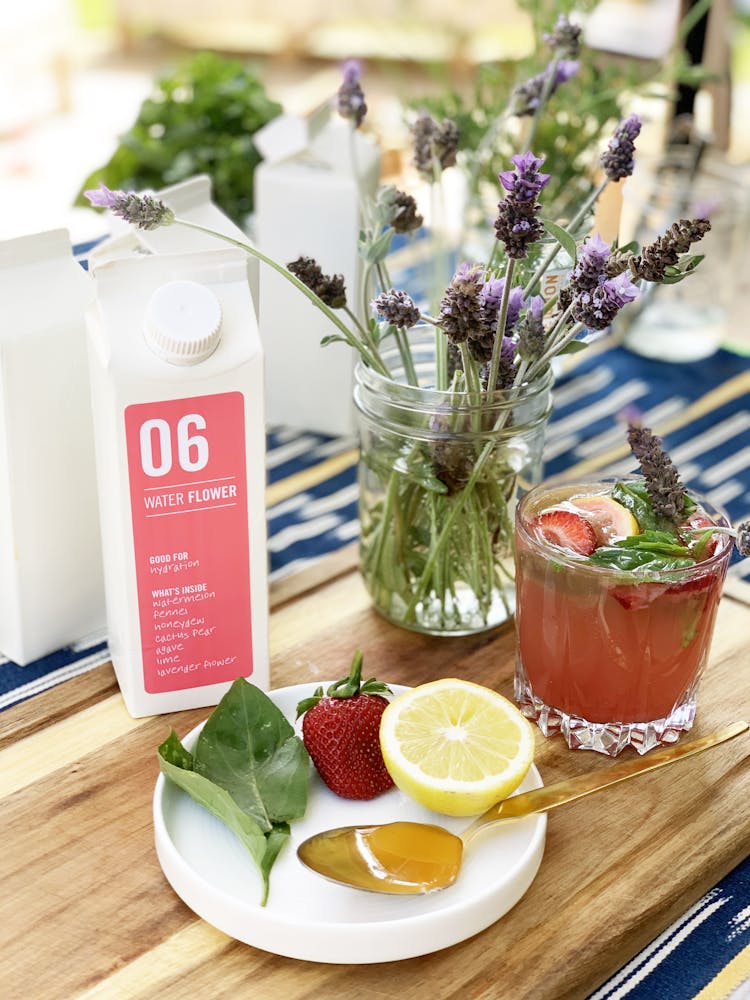 WATER FLOWER
with basil leaves, strawberry, lemon, honey, sparkling water and lavender.
INGREDIENTS

3 fresh basil leaves
1⁄4 lemon slices
1 fresh strawberry
1 tsp raw honey
1⁄2 cup fresh TBD Water Flower juice
1⁄2 cup sparkling mineral water
3 cubes ice
TOPPINGS (optional)

Sprig of fresh lavender
INSTRUCTIONS
1. Using a jar add basil leaves, lemon slices cut in wheels, strawberry slices, and honey - lightly muddle together using a wooden spoon.
2. Pour Water Flower juice to 1⁄2 cup, and 1⁄2 cup sparkling mineral water.
3. Using a fresh glass add a few cubes of ice, pour juice on top.
4. Serve with 2 fresh lavender sprigs.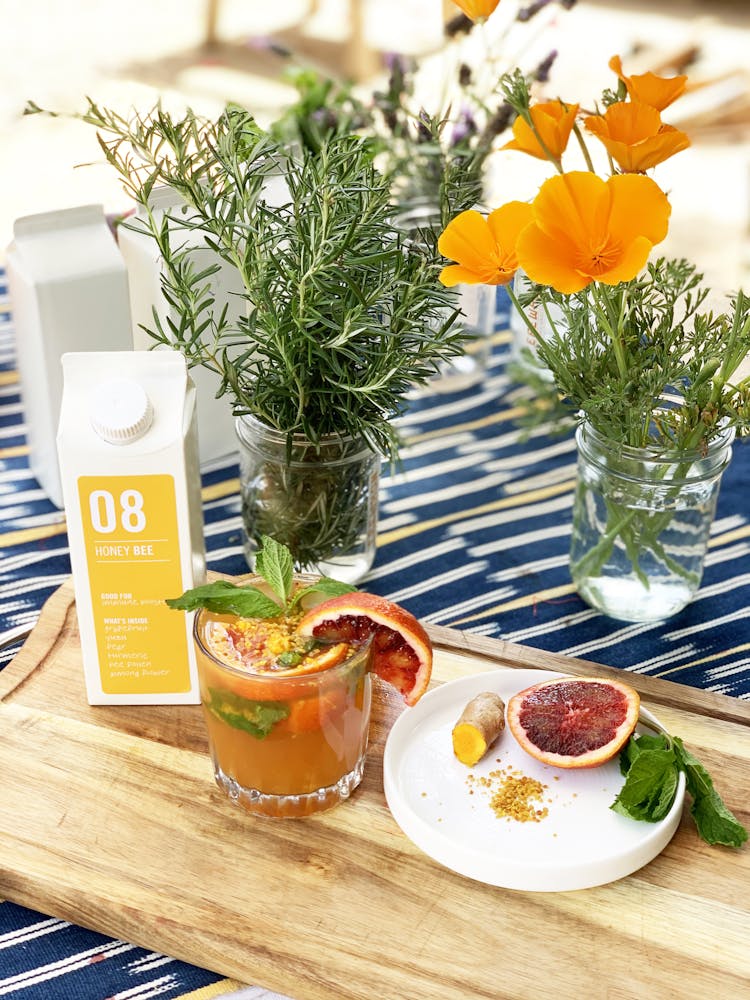 HONEY BEE
with fresh turmeric, blood orange, fresh mint and lemonade kombucha.
INGREDIENTS
3 fresh mint leaves
1⁄4 blood orange slices
1 tsp fresh grated turmeric
1⁄2 cup fresh TBD Honey Bee juice
1⁄2 cup lemonade kombucha
3 cubes ice
TOPPINGS (optional)
Sprinkle of bee pollen on top
Sprig of fresh mint
INSTRUCTIONS
1. Using a jar add mint leaves, blood orange slices cut in wheels and grated turmeric root - lightly muddle together using a wooden spoon.
2. Pour Honey Bee juice to 1⁄2 cup, and 1⁄2 cup lemonade kombucha.
3. Using a fresh glass add a few cubes of ice, pour mocktail on top.
4. Serve with a fresh mint sprig and sprinkle of bee pollen!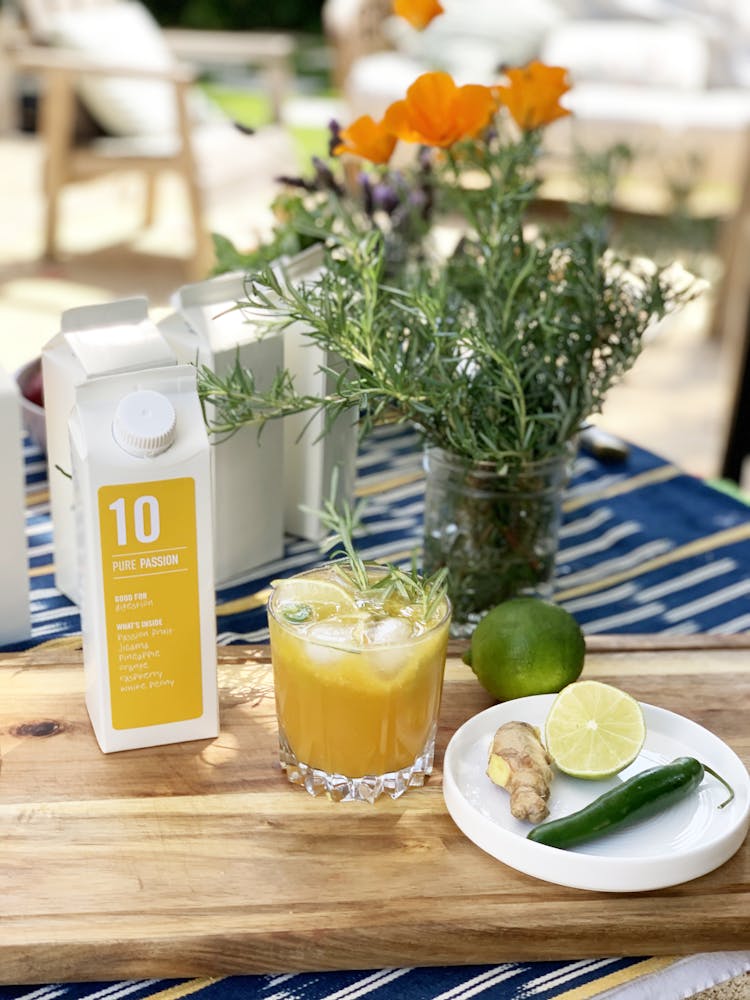 PURE PASSION
with fresh ginger, lime wedges, jalapeno, rosemary and ginger kombucha
INGREDIENTS
1⁄4 fresh lime slices
1 tsp fresh grated ginger
1-2 slices fresh jalapeno
1⁄2 cup fresh TBD Pure Passion Juice
1⁄2 cup ginger kombucha (or ginger beer)
3 cubes ice
TOPPINGS (optional)
Sprig of fresh rosemary
INSTRUCTIONS
1. Using a jar add lime slices cut in wheels, grated ginger root using a lemon zest, and 1-2 slices of jalapeno - lightly muddle together using a wooden spoon.
2. Pour Pure Passion juice to 1⁄2 cup, and 1⁄2 cup ginger kombucha.
3. Using a fresh glass add a few cubes of ice, pour mocktail on top.
4. Serve with a fresh sprig of rosemary and sprinkle of salt.
Voila - enjoy!
Photos: @RyanDowner